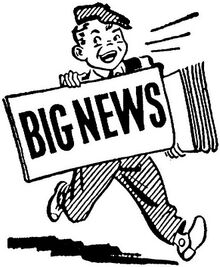 "You heard it here first", or sometimes, "You heard it here first, folks" is a catchphrase used by Lars and Joe to denote significant new information or moments that happen during the show.
As the show is the first podcast ever, it follows that there should be a lot of firsts on it.
Examples
Edit
Former California State Senator Josh Newman made his first announcement of his re-election campaign for 2020 on-air.
Creator of The Elder Scrolls Vijay Lakshman agreed to the first fan-submitted item in his upcoming spiritual successor video game series, Mythborn: the Blades of Glory, a pair of lethal ice skates.
TeeKlef gave the origin story of his stage name for the first time on an interview; while presumably it was not a secret per se, it was inaugural telling of it on official record.
Actress Marieve Herington filled in the rest of the story for her How I Met Your Mother character "Betty", imagining that she stuck around in Ted Mosby's class for some time due to interest in his love life, but ultimately moved on with her life. She acknowledged, however, that she also may be stuck in Architecture 201 to this day. This was the first new bit of HIMYM story development in years since the series conclusion (although it may or may not count as canonical).
Huggbees first announced what would eventually be released as the Cr1tiKal music video "2019 Guy".
mrmeatman revealed his real first name, Michael.
Chikichu revealed his real first name, Will.
ShadowForks revealed that the reason YouTube comedian iDubbbz had been posting ridiculous "Save the Squirrels" videos for the last year or so is because of an upcoming squirrel-related mobile game, which he had the privilege of beta testing.
Kevin from Defunctland revealed that he would make a video on WestCOT.
Community content is available under
CC-BY-SA
unless otherwise noted.