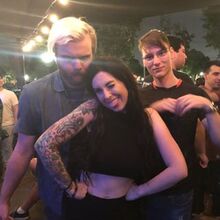 What could have been refers to how the show was slated to go with its initial format and the story arcs that were in development.
The First Podcast was initially a conversational podcast regarding the intertwining lives between the initial three co-hosts: Lars, Alexis, and Joe. Lars acted as the lynchpin, generally rotating episodes between the other two co-hosts.
The show initially began developing a (semi?) fictional romantic comedy between Lars and Alexis, with both of them wholeheartedly embracing the role with banter and flirtation every episode.
In August 2018, Lars acquired the show's first guest, his friend Nick (Pogo). This episode severely shifted the tone of the podcast, containing a somber and thoughtful reflection on the effects of stardom on the ego. Shortly after this, as Alexis effectively exited the show, Lars and Joe began to change the podcast to a talk show format with weekly guests.
What could have been
Edit
Lars, Joe, and to some extent Alexis had deep plans for a variety of story arcs for each of their "characters", with an entire chain of events mapped out together in secret.
Lars and Alexis would have resolved their tension in a way that was bittersweet
Joe would have received a romantic arc with some other woman
Elements of jealousy on Joe's part, as well as Lars's dissatisfaction with his health, were planned
Eventually, Lars and Joe were to "break out" of the fourth wall of the show, and watch it slowly collapse around them
Community content is available under
CC-BY-SA
unless otherwise noted.