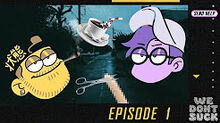 We Don't Suck (stylized "WeDon'tSuck") is a podcast hosted by Kill Bill: the Rapper and Rav, both of whom have made guest appearances on The First Podcast.
Lars has noted to Bill that Joe and himself are willing to be a guest on their show if ever needed.
We Don't Suck is mostly a conversational podcast, with many gags and plenty of absurd humor. Stylistically, the show somewhat resembles earlier guestless episodes of The First Podcast (though there are very occasional guests). Lars would summarize it as, "What if we went with the original format, but got zanier and funnier?"
Often when Lars and Joe reference We Don't Suck on air, the former will insert a clip from the latter podcast's intro song in place of the stated name.
Community content is available under
CC-BY-SA
unless otherwise noted.