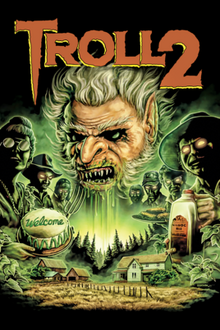 Troll 2 is a movie that Joe and Lars reviewed on a now deleted episode of The First Podcast with guest Chelsea Sanders.
None of the three participants on the episode were a fan of the film, and they dissected a considerable amount of its scenes to talk about what was wrong with it.
In particular, problems with the film included:
Idiosyncratically poor dialogue
A complete lack of trolls, with goblins used instead
The usage of several random people as "actors" who had no acting experience whatsoever, one being a mental patient on day release
Choices and behaviors by the characters which were frequently devoid of any logic whatsoever
A scene that attempted to be sexy by having two characters eat corn until it started popping
Jarring background music
Notoriously poor special effects
Scenes that made it to the final cut which featured glaring technical problems, such as a fly landing on the actor's face
An oddly specifically hostile attitude toward vegetarians
"Ancient cake recipes"
Community content is available under
CC-BY-SA
unless otherwise noted.