Timothy Knox, known on the show as "Tim the Curator", is the head of a creative project named Curator. He was a guest on an episode of The First Podcast.
Uncle Tiege recommended the hosts have Tim the Curator on an episode, as he was a colleague and fan of his work.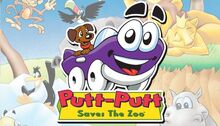 Curator is a project that, at one point, was dedicated to remastering the soundtracks from old games by Humongous Entertainment, such as "Putt-Putt Saves the Zoo". On his episode, he noted he was inspired to create this project after hearing one of the tracks from his childhood in "startling crystal clarity". This project has since been canceled due to legal complications.
Lars and Joe notably found Tim to be an exceptional guest, having come prepared with great answers to their questions, as well as a sense of humor that strongly matched the vibe of the show. Lars was also flabbergasted by the ridiculous hypothetical questions he came up with on the spot.
Tim returned to the podcast alongside Pogo in August 2019.
Community content is available under
CC-BY-SA
unless otherwise noted.