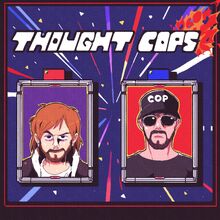 Thought Cops is a weekly topical podcast run from Chicago by stand-up comedians Grant Mooney and Kevin Podas. The hosts, as well as the editor Zwick, are friends of the show.
Each episode of the show features Kevin and Grant, and often a special guest (or several of them). The podcast focuses on "outrage culture", usually of the American variety. The hosts will discuss several news stories which caused a sense of outrage in the general populace, usually mocking the subjects in question.
Despite the name and premise, Thought Cops is not really a political show whatsoever. While it would not be difficult to guess where two millennial stand-up comedians living in an urban area land on certain issues, the two decidedly do not use the show to debate. The intent is to dissect the topics in a comedic fashion and have a laugh.
Staples of the show include:
Greeting the guest(s) from last week
Presenting the show as taking place in the fictional "Neo-Chicago"
Two Minutes of Hate, in which the hosts and guest will rant briefly about a pet peeve
Beef Before Potatoes, where the hosts address something from a previous episode
Grant saying "Aren't we all?" and Kevin saying "News to me!"
Praising and/or consuming Jeppson's Malört, a disgusting liqueur
Weekly voicemails from fans
Appearances
Edit
The members of Thought Cops have made appearances on the show, both as a solo guest (Grant) and as a duo. There were plans to have Kevin as a solo guest at some point, but those plans seem to have stalled. Instead, Lars arranged for an episode with both Thought Cops and Zwick in February 2020.
Joe and Lars made a guest appearance on the 111th episode of Thought Cops.
External Links
Edit
Social Media
Edit
Community content is available under
CC-BY-SA
unless otherwise noted.