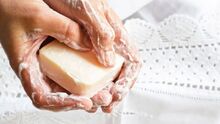 The piss soap question is a hypothetical question that Lars and Joe ran into the ground after asking it on multiple episodes starting with the Huggbees appearance.
Question wording
Edit
You find out there's a really popular brand of soap in France that was made from your piss as a baby. Responding to a public request, your mom sold a company your urine when you were an infant, and due to some unique physiological quirk of yours they found it perfect to base their soap line on. What do you do with this knowledge?
The question came from a series of DMs sent to The First Podcast from Tim the Curator. 
The hosts found it unusually amusing and proceeded to ask the question to about a half dozen guests over time. Some guests were flummoxed by it, while others immediately embraced it. Jake Truemper even requested it be asked. 
After reaching a point of saturation (much like the duck question), Lars officially decided to retire the question in June 2019.
Community content is available under
CC-BY-SA
unless otherwise noted.