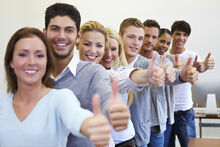 The interns are a group of people that Lars has really wanted to have on hand for various small tasks.
For several months at the end of 2018, Joe helped assemble a team of four assistants. Three of them were let go during the holiday season, as they were a notoriously difficult group to manage and motivate; Lars noted that the time and effort he was utilizing to keep everyone on track was more than it would take to simply do the requisite work itself.
Chris remains a friend of the show and, formerly, an occasional guest host, with his guest liaison duties spun back into the duties of Lars and Joe for the time being. He is also now a volunteer, rather than a paid employee; he has been given business cards for the show to hand out at concerts, and left to his own devices.
In June 2019, Discord member, guest, and friend of the show Tiege offered his services formally as an assistant. He had already been doing the job in an unofficial capacity for most of the show's history. The position offered was essentially a formality.
Current roster
Edit
Former roster
Edit
Christopher Kennard - Guest Liaison (2018-early 2019)
Jake - Assistant Manager (2018)
Nick - VIP Coordinator (2018)
Doug - Ex-Historian (2018)
Community content is available under
CC-BY-SA
unless otherwise noted.