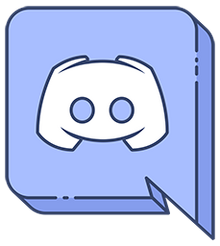 Lars maintains a Discord server for The First Podcast, usually referred to as "the Discord server" or just "the Discord".
Notable channels
Edit
Server environment
Edit
The server for The First Podcast utilizes fairly strict moderation and an attempt to both discourage and remove bigotry, harassment, and overall hostility. Lars, Joe, and the moderators are quick to dole out punishments and quell bullshit when it arises, though it rarely does.
Likely due to the show's no drama rule, most of the people who join are people who are naturally attracted to the relaxed, friendly vibe the hosts have cultivated on said show. Very few members have ever even been reprimanded, let alone kicked or banned.
Lars initially experimented with Discord to record the podcast in its beginning days; he found the call quality insufficient, and unbeknownst to him, this was due to the cheap microphone Joe was using (and talking into the wrong end of, for that matter). The duo switched to Skype for several months.
Eventually in late 2018, the podcast switched back to recording on Discord; both hosts were on studio-quality mics, and Lars actually started a formal server for the show in order to record with guests. They also made a strategic decision to allow fans (of the podcast and/or the guest) to listen in live. However, it would still be several months before they started actually promoting the Discord (and thus having people actually listen in).
Around late February 2019, several key interviews, including one with Asterios Kokkinos and with Huggbees, were done with heavy Discord cross-promotion. As such, the Discord server started to take off for the first time, beyond its usual pattern of activity only surrounding guest recordings. By March, there was round-the-clock regular daily activity from fans, and the hosts began a tradition of an "aftershow" where they would unmute everyone and let the conversation roll for however long it went.
Notably in March 2019, an aftershow with Kill Bill: the Rapper and Rav went for three or more hours after the formal episode recording; Lars and Joe eventually had to leave due to prior obligations. Another aftershow that month lasted literally all night, with the latest members logging off the next morning about 12 hours later.
As of May 2019, there have been several spontaneous voice chat sessions occurring on the Discord channel on any given week. Server members, and occasionally the hosts themselves, will gather to discuss things and joke around. Once in a while, Lars (and, even rarer, Joe) will "dry snitch" a plan for a future episode or event during these sessions.
In late September 2019, Lars started doing semi-regular giveaways of extra Steam keys he receives, often asking members to reminisce about the podcast or something similar in order to enter the drawing.
A new voice chat record was established in early September 2020 after the Drumsy episode, lasting around 30 hours.
Key members
Edit
The moderating staff
Patrons
Content creators
Community content is available under
CC-BY-SA
unless otherwise noted.