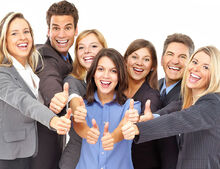 The First Podcast is a group effort, consisting of a collaboration between the hosts, as well as the administrative efforts of several other staff members, and extended assistance from friends of the show.
Primary staff
Edit
Lars is the main host, editor, producer and creative director. He also owns the Discord and runs the Twitter.
Joe is the co-host and marketing executive. He formerly ran the Instagram before it was decided the show would discontinue using the platform.
Secondary staff
Edit
Tiege is VIP Coordinator for the show. His duties include researching guests to have on the show, reaching out to them, and assisting the hosts with strategic development.
Ana, Tom, Zero, and Ken are moderators for the Discord server. Ken very occasionally helps procure guests, as well.
Friends of the show
Edit
Community content is available under
CC-BY-SA
unless otherwise noted.