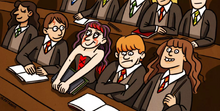 My Immortal is an absolutely atrocious Harry Potter fanfiction that, previously, the hosts (and guests) had been taking turns dramatically reading on air, one chapter at a time. It's a cathartic experience in that since it is so frustrating and stressful to read the chapters, afterwards you feel better because you aren't cringing anymore.
Lars has described this work as "The Room of fanfictions", which is about as insulting as it gets.
Joe has stated multiple times that he would like to gather all the chapters once they are all recorded and stitch them together into an album and release it, maybe around Christmas time.
Current segment status
Edit
This segment has been informally canceled. While Lars and Joe have considerably enjoyed doing it, the content in the final product is exceedingly vulgar, limiting the appeal of the show to sponsors.
They may explore other avenues to finish it off in the future, though it will almost certainly not be done on the podcast proper.
Plot synopsis
Edit
No. There really isn't any way to give a coherent explanation of the plot. There's no story; stuff just happens. Essentially, however, the fanfic centers around a character named Ebony D'arkness Raven Way. This is an author avatar and the best example ever of a Mary Sue. She hooks up with Draco and Harry, everyone becomes a goth (yes, even Dumbledore converts), and it's all a bunch of fun.
Characters with individual articles
Edit
Feel free to expand this by contributing more character articles, though it's understandable that no one would want to actually do that.
The readings
Edit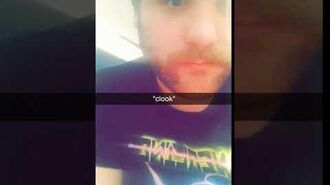 All three hosts have taken part in the readings, becoming a beloved segment by each of them. Lars originally floated the idea to Joe during the recording of an early episode, and it evolved into the recurring segment it is today.
Lately, Lars has taken to doing impromptu character voices for the dialogue while someone else reads the rest of it.
Lars has noted that his favorite moment thus far was when Jackie Exoh read a line about Loopin taking out his "clook".
God help you, you can read it here:
Community content is available under
CC-BY-SA
unless otherwise noted.