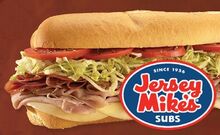 Jersey Mike's is a sandwich shop franchise in America.
Significance on the show
Edit
Lars used to live nearby one when he studied at Cal State Fullerton, and it became something of a point of reference for him on the show. In a sense, "that guy who works at Jersey Mike's down the street" refers to a typical "normal dude" working in fast food. The reference is not meant to be insulting, but rather to compare said hypothetical person to someone famous.
Sara McInerney once questioned whether Lars was obsessed with the restaurant, since she had heard multiple references to it on the show. He noted that he is not, though he does like the food.
The First Podcast is not currently sponsored by them, as of January 2019, though it is possible that the fairly regular references to them may earn them it in the future.
Community content is available under
CC-BY-SA
unless otherwise noted.