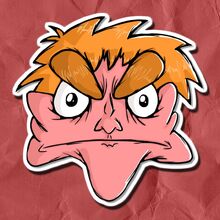 I Hate Everything is a YouTube channel run by English film critic Alex Beltman. On the channel, Alex reviews both a litany of terrible movies, as well as some actually good movies to keep some semblance of emotional balance.
He is also a host of the Sardonicast and the JAR Media Podcast.
Relation to the show
Edit
Aside from being a sought-after guest on The First Podcast, his video on Shark Exorcist inspired Lars to do a much longer review of it for an episode with Chelsea Sanders.
He watched the movie himself and, upon noticing just how bad it was, realized it needed a scene-by-scene critique; Alex's video was noted by him as very amusing, but not quite sufficient if a listener wanted to understand why every scene was bad.
Lars is an avid listener of the Sardonicast and catches episodes of JAR Media when time allows.
Community content is available under
CC-BY-SA
unless otherwise noted.