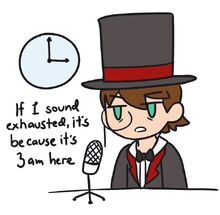 For guests that the hosts want to have on the show, there is a Google Doc featuring this list. If you are someone on this list or know someone on it, reach out to the show!
Starting with what was originally the ninth episode of the show, The First Podcast has had hundreds of guests make appearances. As of the approximate 40% mark before the great purge, the show had completely switched formats to that of a talk show. Episodes without a guest are now few and very far in between.
In August 2019, The First Podcast began doing bonus episodes, sometimes with guest hosts.
In June 2020, Joe and Lars decided to start doing mini episodes, featuring smaller content creators who wouldn't normally qualify for a "full" episode that they want to highlight.
A list of confirmed upcoming guests is always available on the front page of the podcast.
Guests the show has had on or scheduled, A-I
Edit
Guests the show has had on or scheduled, J-R
Edit
Guests the show has had on or scheduled, S-Z
Edit
Guests in limbo
Edit
As the guests Lars and Joe have on are almost exclusively notable and sometimes even famous individuals, scheduling can be something of a nightmare. The hosts prefer to record on weeknights to accommodate their day jobs, adding further complications to scheduling.
Thus, there have been and always will be a number of guests that are stuck in some form of limbo. While not always the case, these ones are generally "big gets" that require, understandably, substantial amounts of time to be able to fit in an appearance; that being said, in 95% of cases they are happening eventually.
The original record for the longest scheduling time was approximately six months for Huggbees; this was broken by The Right Opinion with a total of seven months from initial contact to recording.
Occasionally an announced guest will slip through the cracks during the scheduling process, such as General Sam. In order to avoid disappointing their audience, the hosts will only announce episodes that have been confirmed for a specific date at a specific time.
The First Podcast as a guest on other shows
Edit
Lars and Joe
Edit
Community content is available under
CC-BY-SA
unless otherwise noted.