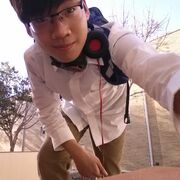 Efryo, stylized as efryo, is a YouTube musician and beatboxer.
History
[
]
Efryo joined the Discord server for The First Podcast around the time of the second Pogo episode. He was commissioned to create a remix of the show theme song in May 2020.
Efryo was a guest on a mini episode in 2020. He also crashed an episode on August 2020 with DaftPina, alongside mrmeatman, Ohan and Rusty Cage.