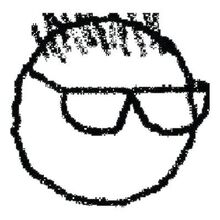 John Paul Zwick, mostly known as simply "Zwick" or handle dude2o, is a podcast editor and friend of the show.
Zwick became acquainted with Lars around the time The First Podcast collaborated with Asterios Kokkinos and Thought Cops. The two quickly struck up a professional relationship as fellow sound engineers, trading advice and privately venting about the programs they edited.
Zwick is a huge fan of both The First Podcast itself and the editing Lars does for it; likewise, Lars appreciates Zwick as an industry colleague who understands his trials and tribulations.
As something of a lush, Zwick is a fan of "daddy sodas", a specific cocktail that Grant and Kevin of Thought Cops have described as "disgusting"; the recipe consists of a mix between Redd's Apple Ale and peach schnapps. He identifies as center-right, but makes no attempt to start any heated discussions on the matter.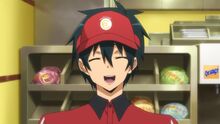 Zwick has a truly bizarre fashion sense; Lars has compared him on-air to Sadao Maou from "The Devil is a Part-Timer" because of his penchant for visors.
Zwick currently edits the podcasts of Asterios Kokkinos as well as Thought Cops. He has expressed hope at some point to edit The First Podcast. For a brief period of time, he was also an editor for The Official Podcast.
In September 2019, Zwick was a guest host on a bonus episode of The First Podcast. He tagged along with Thought Cops for a regular episode in February 2020 as well.
Community content is available under
CC-BY-SA
unless otherwise noted.