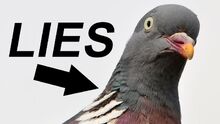 "If you plug an HDMI cord into a bird, you can run any program you want. It's amazing." - Dave Capdevielle, 2020
"Birds aren't real"
is a meme on
The First Podcast
started in the episode with
Dave Capdevielle
.
To parody QAnon, internet users came up with the theory that birds aren't actually real, with a variety of hypotheses as to why.
If you think about it, this theory makes a lot of sense. Birds act weird, almost as if they're actually robots or something. They also appear en masse in cities, which is where the government would probably want to spy on citizens the most.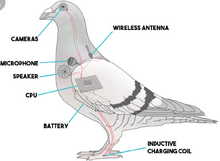 At one point during an episode with Dave Capdevielle as a guest, Joe mused, "Has anyone ever seen birds?", which reminded Lars of the theory. He proceeded to explain the theory to his co-participants.
The chat quickly provided supposed schematics for "birds" and noted that B.I.R.D. could easily be an acronym for Biological Intelligence Reconnaissance Drone. This seemed too plausible to be denied.
Community content is available under
CC-BY-SA
unless otherwise noted.