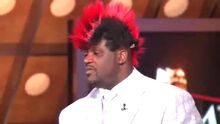 Lars and (formerly) Joe have made occasional references on the show to "Birdman, birdman", an incomprehensible Shaquille O'Neal idiosyncrasy.
O'Neal has a bizarre habit of yelling out "Birdman, birdman!" to no one in particular during interviews, often accompanied by spinning around in his chair while flapping his arms, or even while wearing a bird-patterned headdress.
Lars finds this hopelessly strange and incredibly amusing.
Community content is available under
CC-BY-SA
unless otherwise noted.