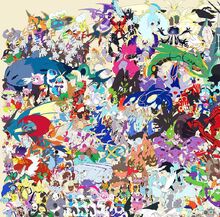 In early episodes of the show, Lars and Joe started going through the National Pokedex twenty at a time to debate which Pokemon would bring about the most devastation.
The segment was ostensibly abandoned as it was too specific of a question for most guests; it would require said guest having extensive knowledge of many facts regarding a very specific video game franchise that is predominantly marketed toward children and young adults.
Rules and Guidelines
Edit
Each of the twenty Pokemon would exist in tandem.
The Pokemon will exist in numbers, not just one.
Types and weaknesses should be considered.
Pokedex entries should be consulted for context.
Mega evolutions are fair game.
Dex No.
Winner
General reasoning
1-20

Flying dragon with flames constantly erupting from mouth

Revised in a later episode, due to Pachirisu being able to tank Draco Meteor, despite not technically qualifying for this round

21-40

Can control minds by looking at someone, and gives people who touch its tale a 1000 year curse
41-60

Unspecified
https://bulbapedia.bulbagarden.net/wiki/List_of_Pok%C3%A9mon_by_National_Pok%C3%A9dex_number
Community content is available under
CC-BY-SA
unless otherwise noted.